Hoooooolyyyyyy shiiiiiit! Keeping our constant all-round radness on a roll for 2013 is FRONT 178 which is so outlandishly amazing it will rip your face off and make sweet love to your eyes – if you're into that kind of thing. Just look at that cool-as-shit gif below, LOOK HOW SICK IT IS!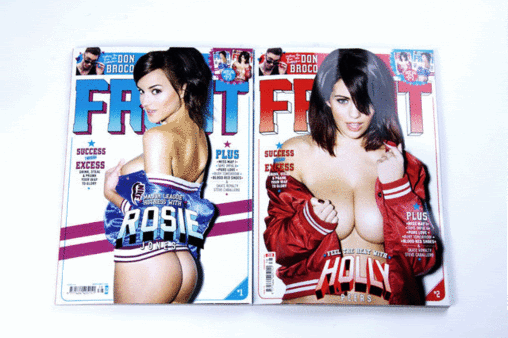 See? It looks immense. Here's just a sample of what you're going to be wrapping your peepers around…
There are TWO FUCKING COVERS! One of HOLLY PEERS and one of ROSIE JONES. You can find them in a super-sexy feature together.
We talk to Brendon Small, the creator of METALOCALYPSE about the songs that shaped him.
The DON BROCO boys invite us into their Handsome Boy Modelling School.
The awesomely alt REBECCA CROW returns to FRONT, and it's fucking incredible.
PURE LOVE talk about their debut album and how great it is to be happy for a change.
We give BURY TOMORROW a hair-raising experience and give you tips for your do.
Bones Brigade's STEVE CABALLERO shares his wisdom on how skateboarding has changed.
We introduce you to the blonde bombshell, KELLY.
TAME IMPALA's Kevin Parker reveals what it's like to be the mastermind of one of the world's coolest bands.
We find out what it will be like to have SEX IN THE YEAR 3013. It's… different.
PLUS A FUCKLOAD MORE!
         KELLY                                                  
ROSIE
&
HOLLY
REBECCA CROW
You must log in to post a comment