It's 2013! We survived the dreaded Mayan apocalypse and the consistent drinking that followed. So while you try to kid yourself that you're going to give up booze and fags for New Year, forget your cravings with FRONT 177 and our guide to the next 365 days of your life with The Sick List. We talked to a number of experts to find out who and what will be getting your cool glands pumping this year: from music, video games and films to fashion, sex and sport – we've got you covered so you still have mates by the end of the year.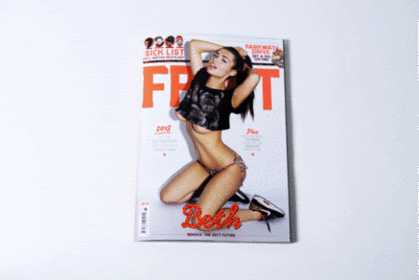 But we're not just about predicting the future, we've got some of the raddest people on the planet gracing FRONT's pages this month. Check it…
Electronic maestros MODESTEP answer our infamous 20 Questions.
Our cover girl, BETH, shows off her wild side.
We talk to Obey's creator and all-round cool dude SHEPARD FAIREY.
Aussie hardcore mob PARKWAY DRIVE barbecue a pigs head and have a food fight.
LASS is back by popular demand and you won't be disappointed.
Snowboarding's nicest guy JEREMY JONES talks through his amazing career.
THE BRONX's Matt Caughthran guides us through the songs that shaped him.
Jordan Buckley from EVERY TIME I DIE shows off his sick collection of art and toys.
This month's Alt Girl is the smoking hot RACH NOTONIX.
BLACK VEIL BRIDES' Andy Biersack gives us the low down of his life in ink.
RACH                                                                BETH                                                                LASS
There's way more inside FRONT 177 than these ten things, these are just some of the highlights – we're not going to fucking rip you off. There's enough good stuff in here to put your Christmas presents to shame, you might as well burn them, so head on out to the shops and nab yourself a copy. Happy New Year, you shit.